Outsiders and Forerunners
Evening Lecture | Michael Werner, Europäische Kulturwissenschaft: eine Herausforderung
The conference "Outsiders" and "Forerunners": Modern Reason and Historiographical Births of Medieval Philosophy is scheduled to take place from April 28-30, 2016, at Freiburg University. This event is the first of two international conferences organized by the Medieval Philosophy in Modern History of Philosophy (MEMOPHI) Research Group, a project sponsored by the European Research Council (ERC).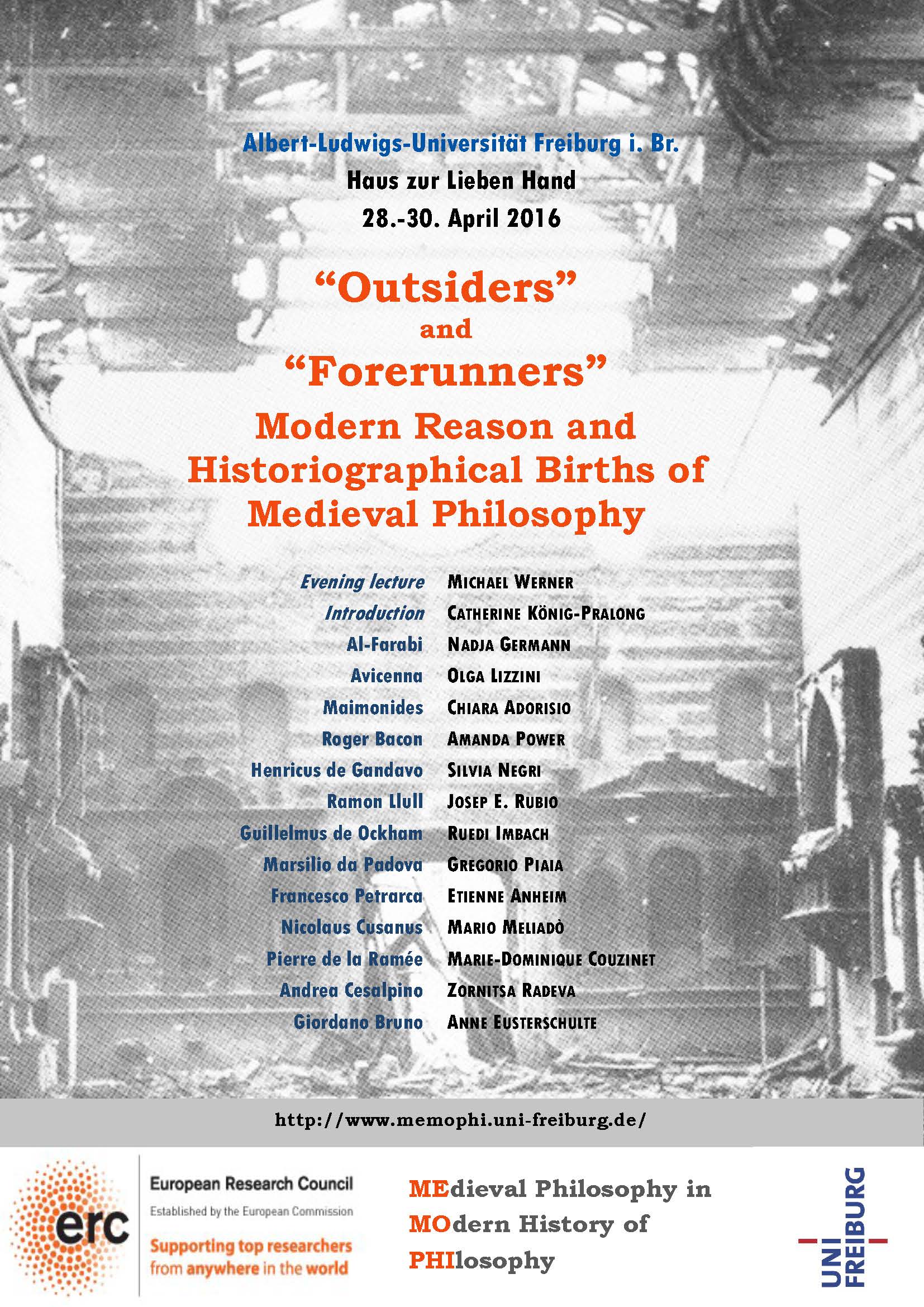 The focus of the conference is on the emergence and development of philosophical historiography as a university discipline, which took place in the 18th and 19th centuries. During that period, historians of philosophy sought to create a historical legitimation of modern reason by way of tracing its origins back to the Middle Ages. They evaluated medieval philosophical theories through the lenses of present-day leitmotifs and assigned to medieval thinkers positions within an imaginary map of cultural identities based on the juxtaposition between "Self" and "Other". Categories such as "method", "Geist" ("spirit"), "mysticism", "atheism" and "pantheism" are examples of eighteenth- and nineteenth-century leitmotifs, which served as guidelines in the exploration and appropriation of the philosophical past. In the process of the historical elaboration of these categories, philosophical historiography saw medieval thinkers as prefigurations of modern reason. Some of them were regarded as "forerunners" that had constructively paved the way for modern rationality; whereas others, viewed as "outsiders", had contributed to the same effect by way of their struggle against "the dominance of scholastic philosophy". In some cases, a particular medieval thinker was labeled both as a "forerunner" and as an "outsider".
Participants are expected to explore the "fate" of a particular philosopher as portrayed in the writings on the history of philosophy from the 18th-19th century, and to evaluate her/his role in the narrative of the origins of modern reason in the Middle Ages.